Screening
Screening for lung cancer with a low-dose CT scan significantly reduces mortality, but less than 10 percent of eligible people participate.
"It takes time for screening to become normalized in our medical community and society," said Catherine Sears, M.D. "These numbers are not stagnant, and we are seeing increases in the use of lung CT scans for lung cancer screening." Sears is a pulmonologist and a physician-scientist at the IU Simon Comprehensive Cancer Center.
As more people know their benefits and healthcare providers continue to refer their patients, screening rates will continue to increase.
"Screening works because it finds lung cancer at an earlier stage, and we know that decreases the risk of death by at least 20 percent and perhaps as high as 40 percent," Sears said.
End Lung Cancer Now advocates can play an essential role in promoting screening efforts in local programs and statewide efforts.  
Recommendations for lung cancer screening
Guidance by the U.S. Preventive Services Task Force (USPSTF) recommends annual lung cancer screening with a low-dose CT scan for adults ages 50 to 80 who have a 20-pack-year smoking history and currently smoke or have quit in the last 15 years. Other organizations and the Centers for Medicare & Medicaid Services (CMS) recommend lung cancer screening for adults ages 50 to 77 who have a 20-pack-year smoking history and currently smoke or have quit within the last 15 years.
A pack-year is equivalent to smoking an average of one pack of cigarettes a day for one year. A person would qualify with a 20-pack-year history by smoking one pack a day for 20 years or two packs a day for 10 years.
"If you have a question if you would benefit from a lung cancer screening, ask your primary care physician," Sears said. "They should be able to figure out those criteria and get you referred to a lung cancer screening program."
Patient story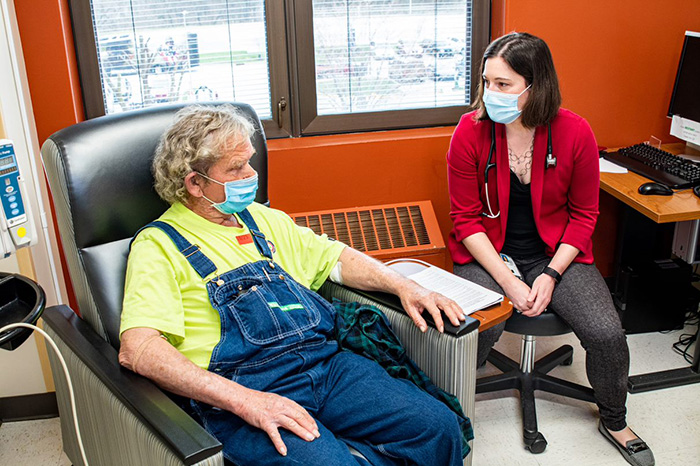 Photo by Mark Turney, Richard L. Roudebush VA Medical Center.
Bobby Richardson, a Vietnam veteran from Bloomfield, Ind., found out that he had stage 1 lung cancer after his physician recommended screening for lung cancer. He was treated through a VA clinical trial called Veterans Affairs Lung Cancer Surgery Or Stereotactic Radiotherapy (VALOR).  His doctor, Catherine Sears, is the local site investigator for the VALOR clinical trial and director of the VA-PALS screening program at Indianapolis. Read more >>
Additional resources
Web pages and graphics designed by Tyler Furman. Furman is a 2022 Herron School of Art + Design graduate.